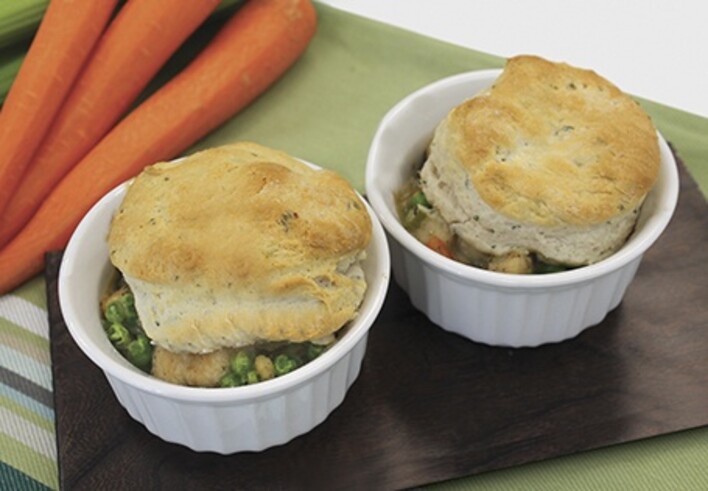 Chicken Pot Pie with Herb Biscuits
Directions:
Preheat oven to 425°.
In a medium pot, over medium-high heat, boil the potatoes until tender. Remove from heat, drain water. Place in a blender or food processor and blend until smooth. Reserve.
In a medium bowl, combine baking mix, 1 tablespoon thyme and 1 teaspoon rosemary. Using a pastry cutter, cut in the vegetable shortening until mixture resembles coarse crumbs. Slowly pour in 3/4 cup almond milk, mix until well incorporated, refrigerate. Dough will be wet and sticky.
In a medium bowl, combine flour, salt and pepper. Coat chicken in seasoned flour.
In a large pan over medium heat, heat the olive oil. Slowly add chicken, sauté until almost cooked through, about 8-10 minutes. Add the carrots and celery, sauté an additional 5 minutes. Add the wine, chicken broth, potato puree, remaining 1 tablespoon thyme, 2 teaspoons rosemary and 3/4 cup almond milk. Reduce heat, let simmer until thickened, 7-10 minutes. Remove from heat. Stir in frozen peas, divide mixture evenly between six 6-ounce ramekins.
Remove reserved biscuit dough from bowl. On a floured surface, pat the dough to an even thickness. Using a 3-inch cookie cutter, cut the 6 biscuits. Place each biscuit on top of each ramekin. Bake until biscuits are golden brown, approximately 20 minutes.
Recipe Courtesy of ALDI Test Kitchen