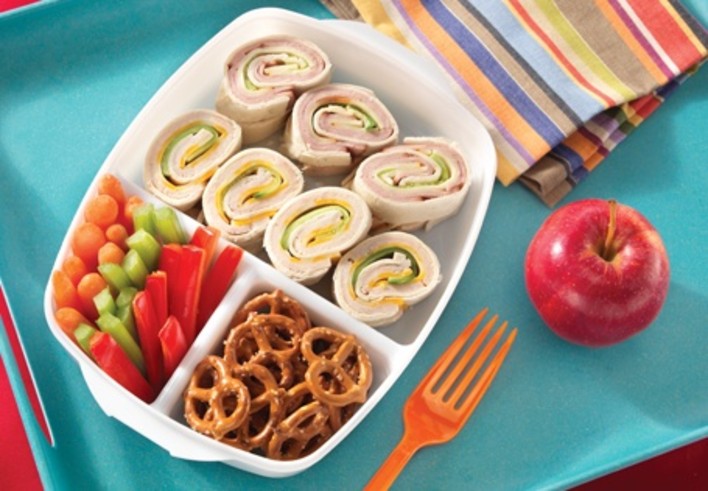 Deli Meat Roll-Ups
Get ready for a lunchtime sensation that's sure to delight your taste buds! These Deli Meat Roll-Ups are the perfect combination of creamy cheese, fresh vegetables and deli meat. This recipe is an irresistible treat that's easy to make and fun to eat.
To make these roll-ups, start by mixing together a flavorful combination of mayonnaise and spices. Next, spread the mayo and spice mix into a soft tortilla, Then, layer on slices of your favorite deli meat and cheese, followed by thinly sliced cucumbers for a refreshing and satisfying crunch.
Once everything is piled on, roll up the tortilla tightly and slice it into bite-sized pieces. These roll-ups are so easy to make that you can prepare them ahead of time and eat them while you're on-the-go.
Directions:
In a small bowl, combine the mayonnaise and spices.
Lay the tortillas on a clean, flat surface. Spread 1/2 tablespoon of seasoned mayonnaise on top of each tortilla, leaving a 1/8-inch border.
Lay 4 slices of ham or turkey on each tortilla. Follow with 8 quarters of the colby jack or muenster cheese.
Spread 1/2 tablespoon of seasoned mayonnaise on top of the cheese. Place the cucumbers in a single layer on top.
Roll the tortilla up tightly. Slice into 1/2-inch pieces.
TIP: Serve with pretzels and sliced vegetables to create a complete lunch.
Recipe Courtesy of Chef Michelle, ALDI Test Kitchen