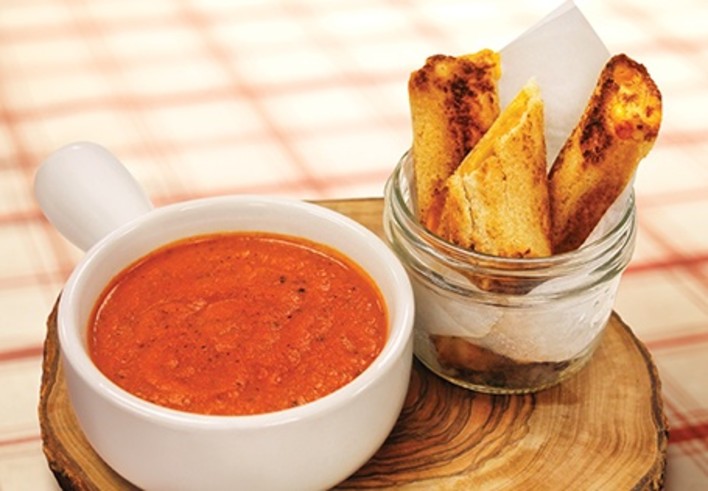 Servings:
4 (2 dippers and 1 cup of soup per serving)
Grilled Cheese Dippers with Roasted Red Pepper and Tomato Soup
Directions:
Heat oven to 400°. In a medium bowl, combine tomatoes, onion, bell peppers, garlic and oil. Place on baking sheet and roast for 20 minutes or until vegetables are tender.
In a medium pot, add vegetable mixture, tomatoes, tomato paste and chicken broth. Bring to a boil and reduce heat to low. Simmer for 10 minutes. Transfer tomato mixture to a blender and process until smooth. Return mixture to the pot and add almond milk. Cook for another 10 minutes. Season to taste with salt and pepper.
Meanwhile, remove crust from each slice of bread. Using a rolling pin, roll each slice to a 1/4-inch thickness. Place 1 slice of cheese on bread. Roll tightly and reserve. Repeat with remaining ingredients.
In a medium pan over low heat, melt butter. Place dipper in a pan and cook for 5 minutes on each side or until dipper is golden brown.
Serve dippers with soup.
TIP: Room temperature cheese works best for the perfect roll.

Recipe Courtesy of Chef Audrey, ALDI Test Kitchen