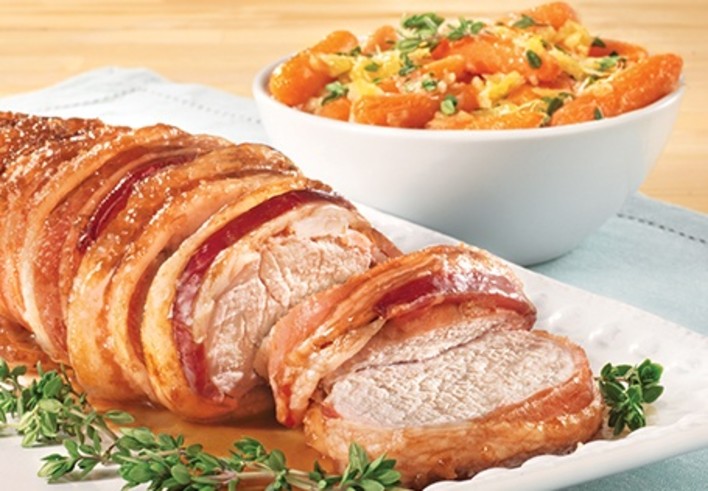 Total Time:
1 hour, 20 minutes
Bacon-Wrapped Pork Loin
With a brown sugar and pineapple glaze.
Directions:
Preheat oven to 350°.
On a cookie sheet, place strips of bacon, side by side, touching.
Lay pork loin on top of bacon and season with salt and pepper.
Wrap bacon around loin, connecting ends. Turn loin over so the bacon seam is on the bottom.
In a small bowl, add brown sugar and ½ cup of drained pineapple juice. Stir mixture. Spread half of the mixture over the top of the tenderloin.
Roast for 30 minutes, then spread the remaining brown sugar mixture over the top. Bake for 30 minutes more, basting with drippings every 10 minutes. Pork is done when the internal temperature reaches 145°. Remove from oven and baste with drippings.
Let rest for 5 minutes before slicing. Pour pan juices over top and serve with Candied Baby Carrots with Pineapple & Thyme.
Recipe Courtesy of Chef Alyssa,
ALDI Test Kitchen