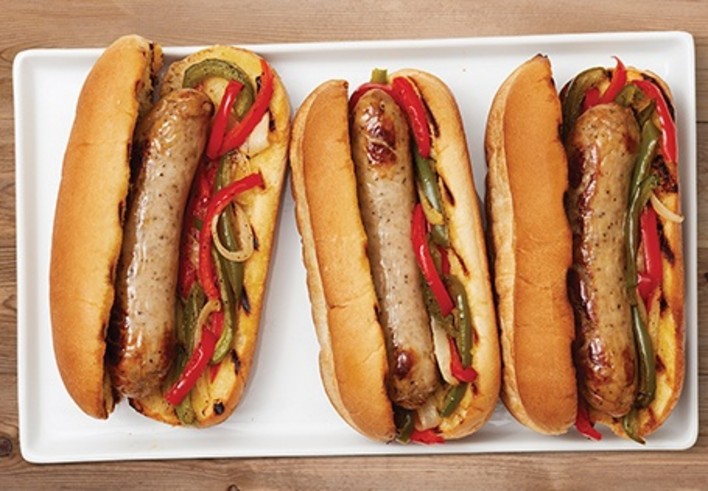 Prep Time:
5 minutes (plus overnight to marinate)
Total Time:
45 minutes (plus overnight to marinate)
Hard Apple Brats
Directions:
Place brats and onions in a large bowl, pour cider over top. Cover and refrigerate overnight.
Preheat grill to medium-high heat. Remove brats from marinade and place in an aluminum foil boat, transfer to grill. Drain cider, reserving 1 cup, set onions aside. Cook for 20-30 minutes frequently basting brats with reserved cider until internal temperature reaches 160°.
Place onions and bell peppers on a sheet of aluminum foil and season to taste with salt and pepper. Place on grill and cook until tender, flipping occasionally. Lightly butter the inside of the deli rolls and sprinkle with garlic powder. Place slit side down on grill, leaving them slightly open, until toasted.
Drizzle mustard across inside of toasted deli rolls. Place brats inside and top with onion and bell pepper mixture.
Recipe Courtesy of Chef Megan, ALDI Test Kitchen