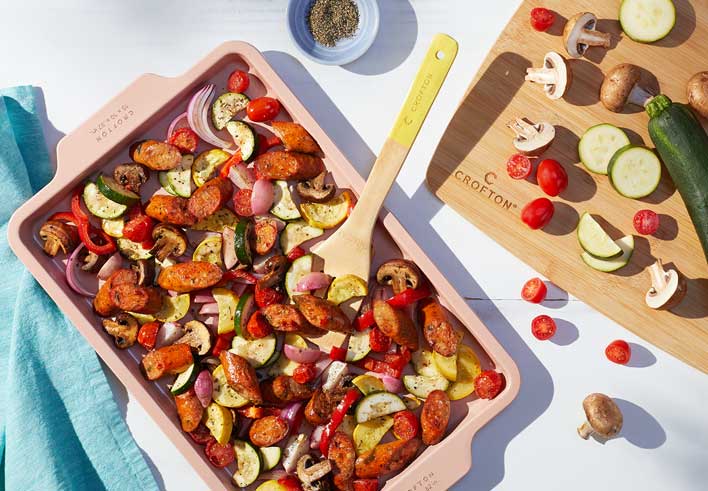 Summer Sheet Pan Sausage and Vegetable
Summer is here, and what better way to celebrate than with a delicious sheet pan meal that is not only tasty but also easy to make. This summer sheet pan sausage and vegetable recipe is the perfect way to get your daily dose of veggies and protein in a single dish.
Start with your sausage, which is sliced into 1-inch pieces and combined with a medley of vegetables that includes red onion, red bell pepper, zucchini, yellow squash, baby bella mushrooms, grape tomatoes and radishes. These ingredients are tossed in a flavorful mixture of olive oil, Italian seasoning, garlic powder, kosher salt and black pepper before being spread out on a large baking sheet.
The beauty of sheet pan meals is that they are incredibly versatile, and this recipe is no exception. You can easily swap out the vegetables for your favorites or whatever is in season. The combination of sausage and vegetables in this dish makes it not only healthy but also delicious.
The recipe is straightforward, and the baking sheet makes cleanup a breeze. You can serve it as is or with a side of rice or pasta to make it a heartier meal. This dish is perfect for a quick weeknight dinner or a weekend meal with friends and family.
This summer sheet pan sausage and vegetable recipe is a winner that is sure to become a go-to meal in your household. Its simplicity, versatility and deliciousness make it a perfect meal for any occasion.
Directions:
Preheat oven to 400

°

. Line a large baking sheet with parchment paper or aluminum foil for easy cleanup.

Place vegetables and sausage in a large mixing bowl.

In a small box whisk together olive oil, Italian seasoning, kosher salt, black pepper and garlic powder until combined. Pour the olive oil mixture over the sausage and vegetables and toss until completely covered.

Spread out sausage and vegetables on the baking sheet in a single layer.

Bake at 400

°

for 30-40 minutes, mixing every 15 minutes or so, until the sausage is browned and all of the vegetables are cooked through and can easily be pierced with a fork.
Recipe Courtesy of Chef Jose,
ALDI Test Kitchen