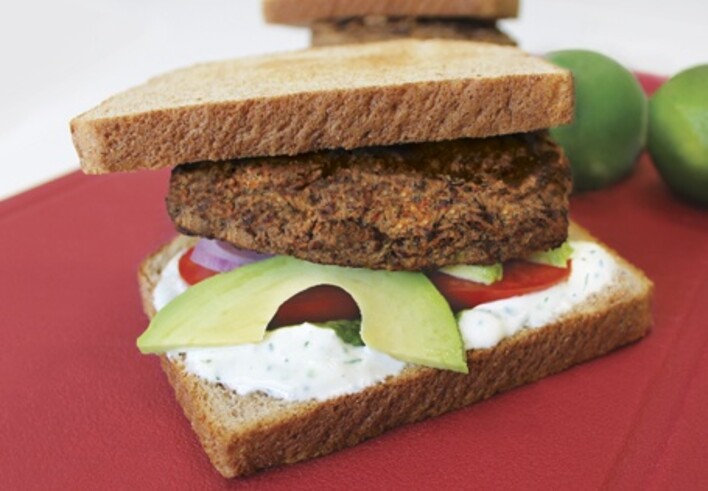 Prep Time:
10 minutes (plus 10 minutes to chill)
Total Time:
30 minutes (plus 10 minutes to chill)
Black Bean Spiced Burgers
Zesty, flavorful, vegetarian burgers.
Directions:
Preheat grill to medium-high heat and spray with cooking spray.
In a medium sauté pan, heat the vegetable oil over medium heat. Sauté the zucchini, onion, and carrot until vegetables are translucent and soft, about 5 minutes. Set aside to cool.
Place vegetable mixture and remaining burger ingredients in a food processor. Process until thoroughly mixed.
Portion into 8 patties of black bean mixture and refrigerate for 10 minutes to set.
Grill patties 2 minutes and rotate 90 degrees to create a crosshatch pattern. Cook for 2 minutes, flip over and repeat.
In a medium bowl, combine cilantro, lime zest, lime juice and Greek yogurt. Season with salt and pepper, to taste.
To assemble, spread 1 slice of wheat toast with 1 tablespoon of yogurt sauce. Layer with 3 slices avocado, 2 slices tomato, 1 slice onion, 1 piece of lettuce, 1 burger patty and top with 1 slice of wheat toast.
Recipe Courtesy of ALDI Test Kitchen

Calories 320 Total Fat 8g Sodium 490 mg Total Carbohydrate 52g Fiber 9g Sugars 10g Protein 12g
The nutritional and special diet information provided with recipes on the site is intended to be a helpful educational resource. The information is not intended to be a substitute for medical advice by a licensed health care professional.

Product information can change without notice, so if you have dietary restrictions and/or allergies it is critical to read all product labels carefully before purchasing and consuming a product.
Recipes that are Better For You
These recipes are healthier options, crafted with ingredients that are naturally lower in sodium, fat or sugar than traditional recipes.