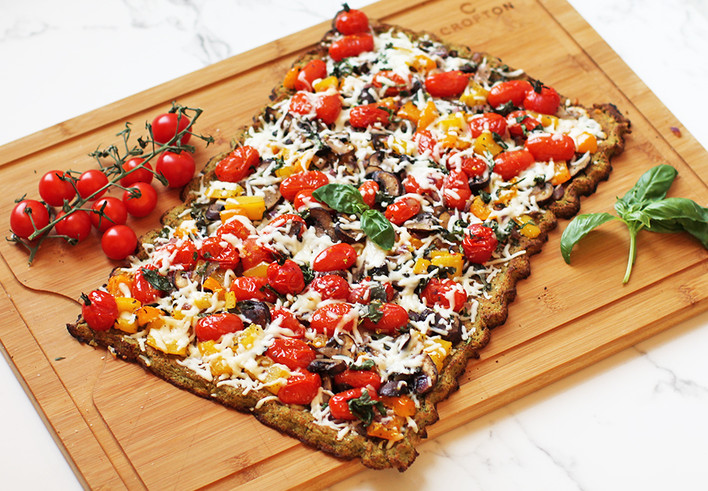 Cauliflower-Quinoa Pizza
Indulge in the delectable flavors of a cauliflower-quinoa pizza that will satisfy your pizza cravings while keeping things healthy and delicious. This unique recipe combines the goodness of cauliflower and quinoa, resulting in a nutritious and flavorful crust that serves as the foundation for an array of mouthwatering toppings.
Begin by preparing the crust. Cook the organic quinoa according to the packaging instructions, ensuring it's fluffy and tender. Drain any excess liquid and set it aside. In a food processor, grind the old-fashioned oats into a fine powder, then sift it and return it to the processor. Add the cooked and drained riced cauliflower, minced garlic, vegetable oil, chopped onion, half a cup of fresh basil, Italian seasoning, a hint of crushed red pepper and season with a sprinkle of salt and ground black pepper.
As the food processor runs, gradually pour in the liquid egg whites, allowing the ingredients to blend into a smooth and cohesive mixture. This vibrant combination of flavors and textures will be the base of our pizza.
Line a baking sheet with foil and coat it with a layer of olive oil cooking spray to prevent any sticking. Evenly spread the cauliflower-quinoa mixture onto the baking sheet, leaving the corners and sides free. To ensure the crust cooks evenly, gently poke the mixture with a fork. Bake it on the lowest shelf of the preheated oven at 475° for about 15 minutes until it sets and starts to turn golden brown.
Carefully flip the baked crust onto a cooling rack, and then place the cooling rack with the pizza back onto the baking sheet. This will allow the bottom of the pizza to become the top, ensuring a perfectly crisp and golden crust. Return it to the oven for an additional 10 minutes or until it achieves a delightful golden-brown color.
While the crust bakes, prepare the tantalizing toppings. Toss together some flavorful tomatoes, mushrooms, red onion and peppers with a sprinkle of Italian seasoning, the zest of a fresh lemon, a squeeze of lemon juice and a light coating of cooking spray. Roast them until the tomatoes become beautifully blistered, releasing their natural sweetness.
Once the crust is ready, it's time to assemble your masterpiece. Top the crust with the roasted vegetables, distributing them evenly for a burst of colors and flavors. Sprinkle some cheese on top, allowing it to melt and create a luscious, gooey layer. Return the pizza to the oven and bake for an additional 5 minutes until the cheese is perfectly melted.
To add a final touch, garnish the pizza with the remaining half cup of fresh basil and the zest of the remaining lemon, infusing it with a burst of freshness. Get ready to delight in the incredible flavors of this cauliflower-quinoa pizza—a wholesome and mouthwatering twist on a classic favorite.
Directions:
1. Preheat oven to 475°.
2. Prepare quinoa according to packaging instructions. Drain any excess liquid. Reserve.
3. In a food processor, add oatmeal, process till fine. Sift and return to processor, adding the cauliflower rice, quinoa, garlic, vegetable oil, onion, 1/2 cup of the chopped basil, Italian seasoning, red pepper, salt and pepper. With processor running, gradually pour in egg whites. Process until smooth. Reserve.
4. Line a 13x18 baking sheet with foil and coat with non-stick spray.
5. Avoiding the corners and sides, evenly spread cauliflower mixture on to baking sheet and poke mixture with a fork. Bake for 15 minutes on the lowest shelf.
6. Carefully flip baked crust onto a cooling rack. Place cooling rack with pizza back onto the baking sheet. The bottom of the pizza should now be the top. Return to oven for 10 minutes or until golden brown.
7. Toss tomatoes, mushrooms, red onion and peppers with Italian seasoning, zest of one lemon, juice and cooking spray. Roast until tomatoes are blistered. Reserve.
8. Top pizza with roasted vegetables and cheese. Return to the oven and bake for 5 minutes or until cheese is melted. Top with remaining 1/2 cup of basil and zest of remaining lemon.
Recipe Courtesy of Chef Tricia, ALDI Test Kitchen
Calories 380 Total Fat 10g Sodium 550mg Total Carbohydrate 52g Fiber 17g Sugars 9g Protein 17g
Recipes that are Better For You
These recipes are healthier options, crafted with ingredients that are naturally lower in sodium, fat or sugar than traditional recipes.