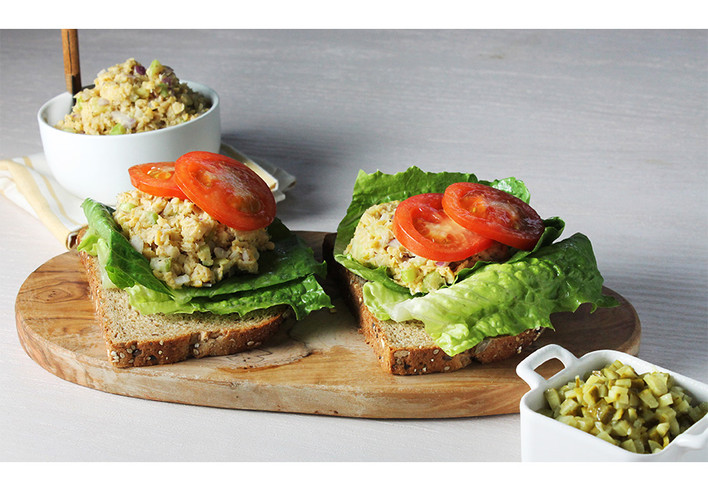 Tuna Less Sandwich
Open-faced mock tuna salad made from garbanzo beans with vegan mayonnaise.
Directions:
For the vegan mayonnaise: In a blender, combine the soymilk, vinegar and pepper. Pulse until combined. Slowly add the oil, blending on high speed, until thick and creamy. Season to taste with salt. Reserve.
For the tuna: In a food processor, pulse the garbanzo beans.
In a medium bowl, combine the garbanzo beans, 3 tablespoons vegan mayonnaise, pickle, celery, red onion, cumin and pepper. Season to taste with salt.
Evenly divide the lettuce onto each slice of bread, followed by tuna and tomatoes.
Tip: Leftover vegan mayonnaise (approximately 9 tablespoons) will keep for one week in the refrigerator.
Recipe Courtesy of Chef Michelle, ALDI Test Kitchen
Calories 260 Total Fat 11g Sodium 420mg Total Carbohydrate 32g Fiber 4g Sugars 5g Protein 9g
Recipes that are Better For You
These recipes are healthier options, crafted with ingredients that are naturally lower in sodium, fat or sugar than traditional recipes.