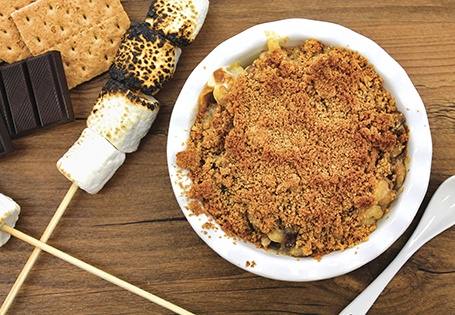 S'mores Mac & Cheese
Dessert mac & cheese the whole family will enjoy!
Directions:
Preheat oven to 350°.
Bring a large pot of water to a boil.
Cook noodles for 8 minutes. Drain and set aside.
Meanwhile, in a medium saucepan over medium heat, whisk together milk, sour cream, cream cheese, vanilla, 1/4 cup brown sugar, 1 teaspoon salt and 1 cup marshmallows. Cook until smooth. Remove from heat.
Add noodles, remaining marshmallows and chocolate chips. Fold gently to incorporate. Transfer to a greased 13x9-inch baking dish.
Combine butter and graham crackers in a medium bowl with remaining brown sugar and remaining salt. Crush to desired consistency.
Spread topping over noodles. Bake for 15 minutes, or until casserole is bubbling and topping is crisp.
Recipe Courtesy of Chef Alyssa, ALDI Test Kitchen