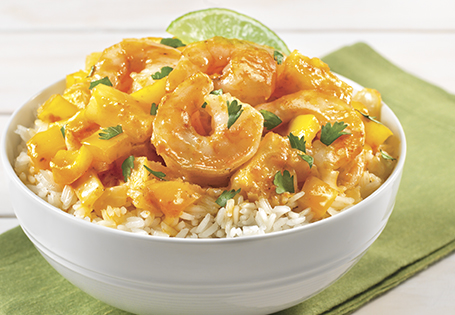 Sautéed Shrimp in Roasted Pepper Butter Sauce
Directions:
Preheat oven to 400°.
Rub jalapeños and red pepper with oil. Roast on a baking sheet for 20 minutes, turning halfway.
Seal peppers in a zip top bag for 30 minutes.
After the peppers have cooled, remove the skins and seeds, dry off the flesh. Place peppers, garlic and butter in a food processor. Pulse until smooth.
In a sauté pan over medium heat, combine the butter mixture, yellow pepper, onion, pineapple and salt. Cook until vegetables are very soft, about 10 minutes.
Add the shrimp and sauté about 8-10 minutes more, or until all shrimp are cooked through.
Add cilantro and lime, season with salt and pepper. Great served over rice!
Recipe Courtesy of Chef Stacey, ALDI Test Kitchen