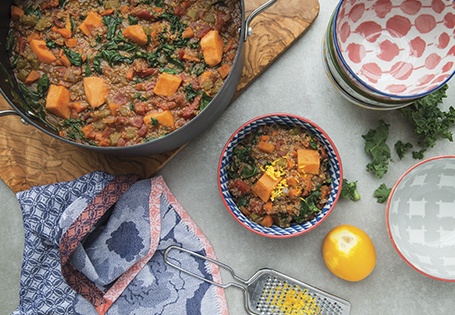 Mediterranean Quinoa Vegetable Stew
An easy way to warm your belly on a cold afternoon.
Directions:
In a large pot, over medium heat, heat the olive oil. Sauté onions and garlic until onions are translucent, about 3-5 minutes. Add the celery, carrots and sweet potatoes, sauté an additional 3-5 minutes.
Add the wine, quinoa, chicken broth and diced tomatoes, bring to a boil. Using a piece of kitchen twine, tie the rosemary and thyme together, add to pot. Season to taste with salt and pepper.
Add allspice and lemon juice; reduce heat to low. Simmer until potatoes are tender, approximately 20 minutes. Add kale, spinach and zucchini during last 10 minutes of cooking. Remove herb bundle from pot before serving.
Garnish each bowl of stew with lemon zest.
Recipe Courtesy of ALDI Test Kitchen