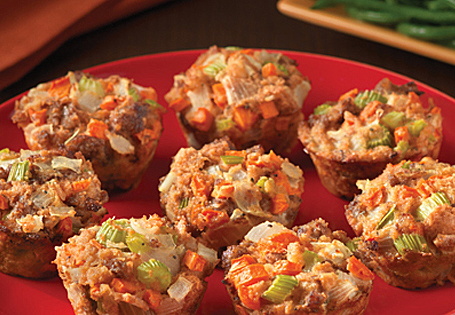 Italian Sausage Dressing Cups
Stuffing in a muffin form!
Directions:
Preheat oven to 400°. Lightly spray a 12-cup muffin pan with non-stick spray.
In a large sauté pan, brown and crumble Italian sausage over medium-high heat, about 10 minutes.
Remove sausage and set aside, add vegetable oil. Reduce heat to medium; add onion, carrots and celery. Sauté until vegetables are clear and soft.
Add chicken broth and bring to a boil, reduce heat and simmer for 10 minutes. Transfer vegetables to a large bowl to cool.
Add black pepper, salt, and Italian seasoning. Taste, adjust seasoning if necessary.
Toast diced rolls on a baking sheet until crisp, about 10 minutes.
Add rolls, Italian sausage and beaten eggs to the vegetable mixture, stir to combine.
Place 1/2 cup of roll mixture into each muffin tin.
Bake for 30 minutes, until toothpick comes out clean and dressing cups are lightly browned.
Serve with your favorite gravy and enjoy!
Recipe Courtesy of ALDI Test Kitchen