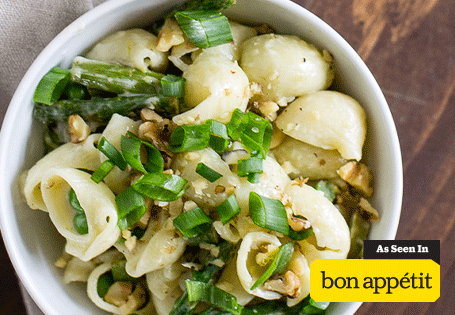 Pipe Rigate with Spring Vegetables, Parmesan and Lemon
Directions:
Thinly slice the white and light green parts of green onions. Thinly slice dark green tops on the diagonal and reserve for garnish.
Bring a large stock pot of heavily salted water to a boil over high heat.
In a large sauté pan, heat butter and olive oil on medium heat. Add sliced scallions, excluding reserved garnish, and sauté until fragrant, about 2 minutes.
Add asparagus and increase heat to medium-high. Cook until bright green, stirring frequently, about 5 minutes. Add sugar snap peas, garlic, salt and pepper and cook 2 minutes, stirring frequently.
Add white wine and cook until reduced by half, about 1-2 minutes.
Meanwhile, add pasta to boiling water and stir. Cook for 9 minutes; add frozen peas during the last minute of cooking. Reserve 1 cup cooking water. Drain and return to pot over low heat. Add asparagus mixture along with heavy cream, lemon zest and 1/2 cup of reserved cooking water. Gently stir to combine and remove from heat.
Stir in parmesan cheese and lemon juice; add remaining pasta water if sauce isn't visible on the bottom of the pot. Season to taste with salt and pepper.
Transfer to serving dish and top with walnuts and reserved green onion tops. Drizzle with olive oil and sprinkle with parmesan.
Recipe Courtesy of Executive Chef Mary Nolan, Bon Appétit
Photo Courtesy of Meggan Hill