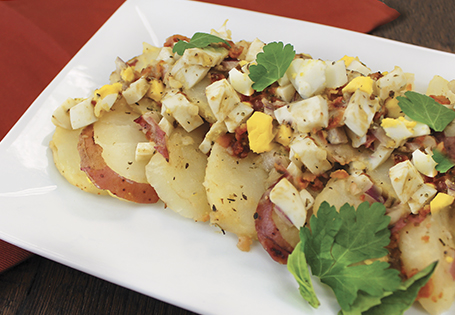 Warm Dijon and Bacon Potato Salad
Another option for using up those colored eggs!
Directions:
Boil the whole potatoes, skin on, until they are easily pierced with a fork. Drain and slice into ¼" thick slices. Reserve.
Dice bacon into ¼" pieces. Cook the bacon in saucepan until crisp. Remove from pan and drain on a paper towel.
Discard all but 2 tablespoons of bacon fat. To the remaining bacon fat, add flour and cook over medium heat, stirring constantly for 2 minutes. Stir in Italian seasoning, mustard, vinegar and sugar.
Using a whisk, add the beer and water; bring to a simmer until thickened.
In a large bowl, combine potatoes, bacon, onion, salt, egg and warm dressing. Serve immediately.
TIP: Use your leftover hard boiled Easter eggs to save time!
Recipe courtesy of Chef Stacey,
ALDI Test Kitchen