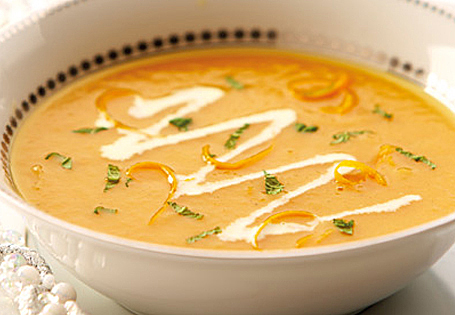 Citrus Shrimp Bisque with Sour Cream Drizzle
Directions:

Defrost shrimp according to packaging instructions. In a saucepan over medium-high heat, heat 2 tablespoons butter, then add shrimp.
When shrimp is pink, add water and cover. Simmer for 15 minutes and remove from heat.
In a separate large saucepan, melt remaining butter. Add vegetables and sauté until soft and translucent, about 5 minutes.
Stir in flour and cook for 3 minutes.
Add tomato soup, 10.75 ounces of milk and orange juice and bring to a simmer. Strain shrimp mixture over a fine mesh strainer into saucepan.
Peel shrimp, add half of shrimp to soup and simmer for 15 minutes. Chop the other half of shrimp into bite-sized pieces and set aside.
Transfer to a blender and blend soup until smooth.
Add chopped shrimp to soup and stir. Add hot sauce, lemon juice and poultry seasoning. Season to taste with salt and pepper.
Whisk together sour cream and remaining milk.
Pour into bowls and drizzle with sour cream mixture, orange zest and parsley.
Recipe courtesy of Chef Alyssa,
ALDI Test Kitchen