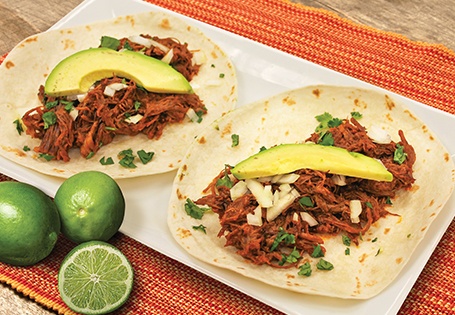 Cook Time:
4 hours, 18 minutes
Total Time:
4 hours, 23 minutes
Tequila Beef Barbacoa
Braised shredded beef in a zesty tomato sauce.
Directions:
Preheat oven to 375°.
In a small bowl, stir together salt, pepper, cumin, chili powder and paprika. Sprinkle evenly over chuck roast.
In a large Dutch oven, heat oil on high for 1 minute. Reduce heat to medium and sear chuck roast on all sides, about 2 minutes each side. Remove from pan. Reserve.
Add onion and garlic. Sauté for 5 minutes. Add tequila and cook for another 5 minutes. Add remaining ingredients and half of the cilantro, bring to a boil. Return beef to pan, cover and bake for 3-4 hours until meat is tender and falling apart.
Remove beef from pan and place in a large bowl. Shred with two forks, discarding any pieces of fat.
With a spoon or ladle, skim fat from the sauce. Transfer sauce to a blender and blend until smooth. Strain sauce into bowl of shredded beef. Add remaining cilantro and stir to combine. Serve in a tortilla or with your favorite Mexican sides.
Recipe Courtesy of Chef Linsey, ALDI Test Kitchen