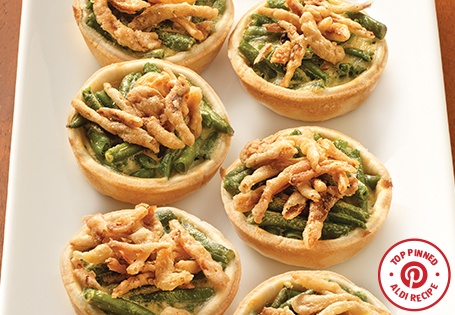 Green Bean Casserole Quiche Bites
Your favorite side in bite-size form.
Directions:
Preheat oven to 400°.
In a medium bowl, whisk together the soup, cream, eggs, black pepper, garlic powder, onion powder and nutmeg. Add green beans, stir until combined.
Take pie crust out of package, roll with rolling pin to 1/8" thickness.
Cut out mini pie crusts using a 3-inch round cutter. Repeat and re-roll pie crust to maximize dough.
Lightly press each mini pie crust into a muffin pan. Fill each pie crust with 2 tablespoons of filling.
Bake 10 minutes, remove from oven and top with onions. Return to oven for 10 minutes or until golden brown.
Recipe Courtesy of ALDI Test Kitchen