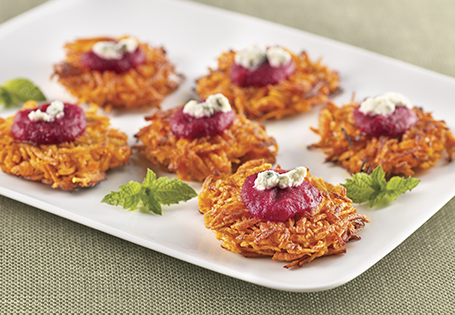 Sweet Potato Pancakes with Cranberry Apple Purée and Blue Cheese
Not your traditional potato pancake.
Directions:
Preheat oven to 350°.
Place a strainer in a large bowl with water. Peel the sweet potatoes and place in a bowl of water until ready to use. Grate the sweet potatoes and place in the prepared strainer. Rinse the sweet potatoes until the water runs clear. Place the mixture on a towel-lined baking sheet to dry.
In a large bowl, combine the sweet potato, orange juice, egg, flour, salt, pepper and 1/2 teaspoon pumpkin pie spice.
In a large sauté pan, heat half of oil over medium-high heat. Scoop out 2 tablespoons of mixture and cook 2-3 minutes per side, until golden brown. Transfer cooked potato pancakes to a cooling rack on top of a baking sheet to allow excess oil to drain. Add more oil if needed, heat to medium-high heat before adding pancakes.
Place cooked potato pancakes on a parchment-lined baking sheet. Bake for 10 minutes to heat through.
For the cranberry apple purée: In a medium saucepan, combine remaining pumpkin pie spice, cranberries, apples, sugar and water. Bring to a boil and reduce heat to a simmer, cover. Continue cooking for 10 minutes until cranberry skins pop and apples are tender. Transfer mix to a blender and process until smooth.
To assemble: Top each potato pancake with 1 teaspoon of cranberry apple purée and 1/8 of blue cheese.
Recipe Courtesy of ALDI Test Kitchen