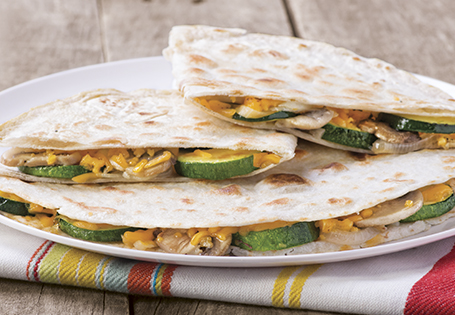 Campfire Veggie Quesadillas
Directions:
In a large sauté pan over medium-high heat, heat olive oil. Add zucchini, mushrooms and onion. Cook until soft, stirring often. Drain any liquid.
Coat six squares of foil with cooking spray, lay one tortilla on each. Place ½ cup cheese and ¼ vegetable mixture on one half of the tortilla; fold in half. Seal the foil around the quesadilla. Keep chilled for any camping trip!
To cook each quesadilla, place foil packet on the outside of the campfire or on grill grates. Cook for 3 minutes per side. Allow to cool slightly before opening and eating.
Recipe Courtesy of Chef Stacey, ALDI Test Kitchen