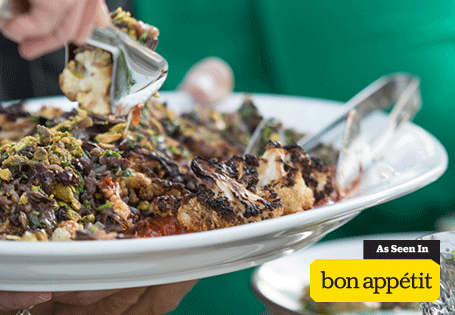 Oven-Seared Cauliflower Steaks with Tomato and Red Onion Jam
Directions:
For the red onion jam: Heat 2 tablespoons olive oil in a large sauté pan over medium-low heat and add onions. Cook, stirring frequently until onions start to shrink, about 10 minutes.
Reduce heat to low and continue to cook, stirring occasionally, until onion is very soft, about 20 minutes longer.
Add water, red wine vinegar, brown sugar and salt. Continue to cook, until very soft and jam-like in texture, about 30 minutes longer, adding more water if necessary. Remove from heat and allow to cool.
Transfer to a cutting board. Roughly chop and transfer to a mixing bowl. Add olives and parsley, stir to combine. Reserve.
For the cauliflower: Heat pasta sauce in a medium saucepan with Italian seasoning over low heat. Keep warm until ready to assemble dish.
Place 2 rimmed baking sheets in oven and preheat to 425°.
Remove leaves and trim stem end of cauliflowers, leaving core intact. Place cauliflower core side down on work surface. Using a large knife, slice cauliflower into four 3/4-inch thick "steaks" from center of cauliflower (some florets will break loose; reserve large ones).
Rub cauliflower steaks and loose florets with oil and season with salt and pepper on all sides.
Carefully remove hot baking sheets from oven and evenly place 4 cauliflower slices on each, along with any loose florets.
Return sheets to oven and bake 10 minutes. Turn cauliflower slices and continue to cook until deep golden in color and fork tender, about 20 minutes longer.
Spread 3/4 of the warm tomato sauce on a serving platter and top with cauliflower steaks. Top with remaining sauce and then half of the red onion jam (reserve remaining for another use). Sprinkle with pistachio pieces and serve immediately.
Recipe Courtesy of Executive Chef Mary Nolan, Bon Appétit
Photo Courtesy of Lisa Romerein