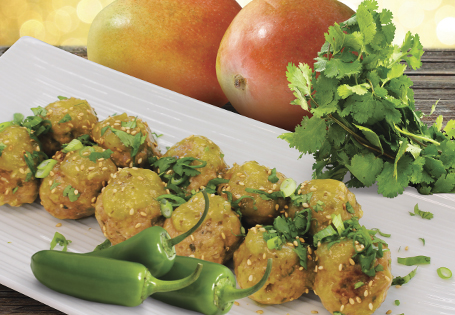 Mango Jalapeño Party Balls
Directions:
Preheat oven to 375°.
For the meatballs: In a large bowl, combine all ingredients and mix until well incorporated. Reserve.
Shape into tablespoon-sized meatballs and place on parchment-lined baking sheet. Bake for 15 minutes or until internal temperature reaches 165°.
For the glaze: In a food processor, combine mango, onion, jalapeños, cilantro, garlic and salt. Puree until smooth and transfer to a small saucepan. Whisk in honey, orange juice and water. Over medium-high heat, bring glaze to a boil, reduce heat and simmer for 10 minutes.
Toss meatballs in glaze. Garnish with cilantro, green onions and sesame seeds.
TIP: Form the meatballs the night before to reduce prep time. Use a slow cooker to keep prepared meatballs warm.

Recipe Courtesy of Chef Audrey, ALDI Test Kitchen