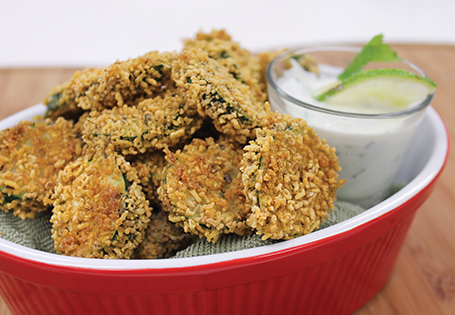 Oven Fried Zucchini with Jalapeño Dipping Sauce
Directions:
Preheat oven to 425°. Coat a baking sheet with nonstick cooking spray.
In a small bowl, combine the corn starch, ½ teaspoon salt and ¾ teaspoon pepper. In another small bowl, slightly whisk the egg and 1 tablespoon water.
Place the cereal in a large zip bag, crush into fine crumbs. Pour contents into a small bowl. Add remaining teaspoon of salt, pepper and oregano; mix well.
Bread the zucchini rounds by dipping them in the corn starch, then egg, then cereal mixture. Place on prepared baking sheet. Spray the tops with cooking spray and bake for 12-14 minutes.
In a medium mixing bowl, combine the sauce ingredients. Season with salt to taste, serve alongside the crispy zucchini.
TIP: Seeds contribute to the heat of a pepper. Remove seeds to decrease the heat of the jalapeño.

Recipe Courtesy of Chef Stacey,
ALDI Test Kitchen