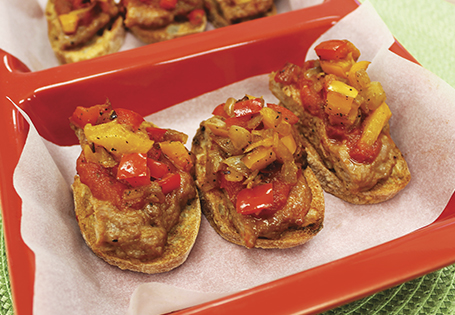 Sausage and Pepper Crostini
Appetizer-sized sausage with peppers.
Directions:
Preheat oven to 400°. Coat a large baking pan with cooking spray.
Remove casings from sausages. Make 12 patties of equal size and place on prepared pan.
Cook sausage patties until internal temperature reaches 165°, approximately 10 minutes. Cut each in half. Change oven setting to broil.
In a large sauté pan, heat oil over medium-high heat. Add the onion, red and yellow peppers; sauté until soft. Add the garlic; stir for 1 minute. Remove from heat, season with salt and pepper.
Toast the baguette slices under the broiler for 1-2 minutes until lightly browned. Flip and repeat.
In a medium bowl, microwave the pasta sauce for 3 minutes.
Layer the crostini as follows: baguette, 1 tablespoon sauce, sausage, 1 tablespoon of pepper mixture. Serve immediately.
Recipe Courtesy of Chef Stacey,
ALDI Test Kitchen