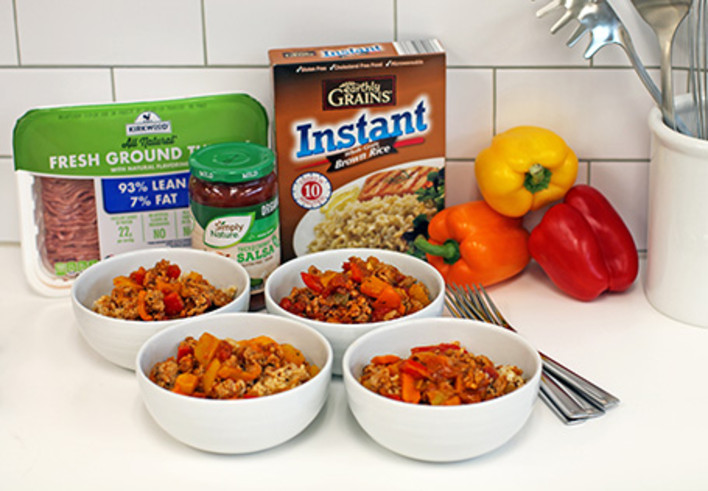 Deconstructed Stuffed Pepper Bowls
Dive into the culinary delight of our Deconstructed Stuffed Pepper Bowls, a perfect blend of healthy and hearty indulgence. If you're seeking a meal that's both visually appealing and a treat for the taste buds, this is your dish.
Start with the instant brown rice. As it cooks, it becomes a fluffy base, ready to support the vibrant toppings to follow.
Next, the bell peppers. Dice them into colorful chunks of reds, greens and yellows. These vibrant pieces not only add a pop of color but also infuse the dish with essential nutrients. Sauté them in a touch of oil until they're just tender, releasing their natural sweetness.
Then, add the ground turkey to the skillet. As it cooks alongside the peppers, it takes on a rich flavor profile. The addition of salsa brings a tangy twist, melding the ingredients into a cohesive, flavorful mix.
To serve, layer the sautéed mixture over the rice, creating a delightful contrast of textures and flavors.
For those looking to elevate their bowl, sprinkle on shredded cheese, a dollop of sour cream or even some crunchy tortilla chips. Each ingredient complements the next, ensuring every bite is memorable.
Directions:
1. Prepare rice according to package instructions. (Two cups uncooked rice will yield 4 cups cooked.)
2. Chop bell peppers into bite-sized pieces.
3. Heat one tablespoon of oil in a non-stick skillet on medium-high heat and sauté peppers in pan for about 5 minutes. Add ground turkey to skillet and stir, breaking the meat up with a spatula or spoon, for about 6 minutes. Add jar of salsa to pan to stir. Allow to simmer for 5 minutes.
4. Serve over prepared rice.