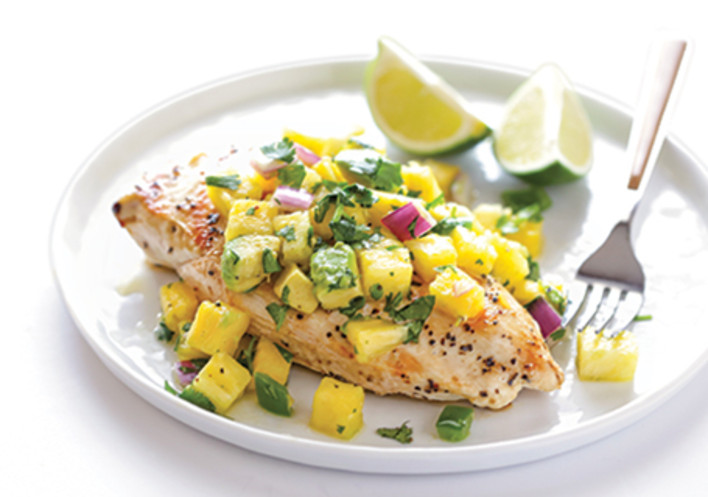 Grilled Chicken with Pineapple Avocado Salsa
Experience the perfect summer dish with our Grilled Chicken topped with Pineapple Salsa. This recipe effortlessly marries the smoky flavor of grilled chicken with the refreshing tang of a tropical salsa.
Start by preparing the salsa: mix together fresh pineapple, creamy avocado, zesty cilantro, onions and a hint of jalapeño. A splash of lime juice and a sprinkle of salt, cumin and black pepper elevate the flavors. Let it sit, allowing the ingredients to meld.
For the chicken, brush boneless, skinless breasts with olive oil, season to taste and grill. Aim for those beautiful grill marks and ensure the meat remains juicy. After about 10 minutes on the grill, let the chicken rest to lock in its flavors.
Serve by placing a generous dollop of the vibrant salsa on each chicken breast. The combination of the charred chicken with the cool, fruity salsa offers a delightful contrast in every bite.
Ideal for a summer BBQ or an outdoor dinner, this grilled chicken dish pairs wonderfully with a chilled beverage on a warm evening.
Directions:
For the salsa: In a medium bowl, combine all ingredients. Reserve.
For the chicken: Brush the chicken on both sides with olive oil. Season with salt and pepper to taste.
Preheat grill or grill pan over medium-high heat. Cook the chicken until the internal temperature reaches 165°, about 5 minutes per side.
Remove chicken and allow it to rest for 5 minutes. Plate the chicken and top with desired amount of salsa.
Recipe and Photo Courtesy of Ali Ebright, Gimme Some Oven
Recipes that are Better For You
These recipes are healthier options, crafted with ingredients that are naturally lower in sodium, fat or sugar than traditional recipes.