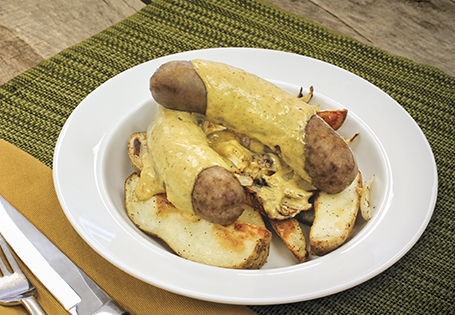 Bratwurst, Roasted Potatoes and Onions with a Mustard Cream Sauce
Directions:
Preheat oven to 400˚.
Cut onions and potatoes into ½-inch wedges. Toss in oil and season with salt and pepper. Spread evenly on a baking sheet. Bake for 30-40 minutes or until potatoes and onions are golden brown.
In a large skillet, bring broth and wine to a simmer. Add bratwurst, continue simmering for 10-15 minutes or until fully cooked.
Remove bratwurst. Bring broth to a boil and continue cooking until reduced to half cup of liquid. Add cream and mustard, simmer until thickened.
Serve bratwurst over potatoes and onions with mustard sauce.
Recipe Courtesy of Chef Scott, ALDI Test Kitchen