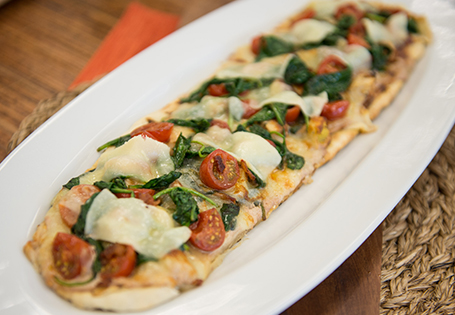 Bistro Chicken Pizza
A rich and savory, grilled pizza.
Directions:
Heat grill to medium heat. Preheat oven to 400°.
In a stand mixer bowl, using a dough hook, combine the flour, baking soda, and salt. Add the honey, vegetable oil, water and beer. Mix on medium speed for 8 minutes until a ball forms and the bowl is clean.
Divide the dough into fourths and smooth into a ball. Roll each ball into a 12-inch oblong pizza. Brush each side of pizza dough with olive oil. Grill dough 30 seconds per side. Remove dough from grill and place on baking sheets.
Separate chicken and potatoes from leftovers. Strain red wine sauce and reserve. Dice chicken and potatoes, combine with spinach mixture.
In a medium bowl, whisk red wine sauce and whipped cream cheese until smooth.
Spread red wine sauce mixture evenly over each pizza crust. Divide the chicken, potato and spinach mixture among the four pizza crusts.
Arrange mozzarella and Havarti cheese evenly on each pizza, alternating flavors.
Bake pizzas until cheese melts, about 8 minutes.
Recipe Courtesy of Chef Jonathan,
ALDI Test Kitchen