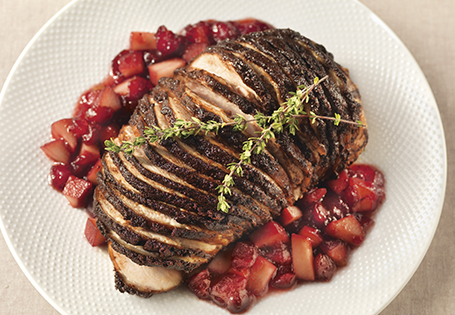 Chocolate and Coffee Crusted Turkey Breast with Cranberry Pear Chutney
A unique crusted turkey breast full of seasonal flavors.
Directions:
Preheat oven to 325°.
For the turkey: In a medium bowl, combine the first 8 ingredients.
Pour the mixture over the turkey breast, coating all sides well. Bake for 1 hour and 30 minutes, or until internal temperature reaches 165°. Remove netting and rest for 15 minutes.
For the chutney: In a medium saucepan, bring the pears and wine to a simmer. Cook for 10 minutes then turn off heat. Allow to steep for 15 minutes. Drain and refrigerate until cool. Dice pears and reserve.
In a medium saucepan, simmer the cranberry sauce and vinegar for 10 minutes or until the berries burst and the sauce has thickened. Stir in the pears and simmer for an additional 10 minutes. Reserve at room temperature.
Slice the turkey and serve with the chutney.
Recipe Courtesy of Chef Stacey, ALDI Test Kitchen