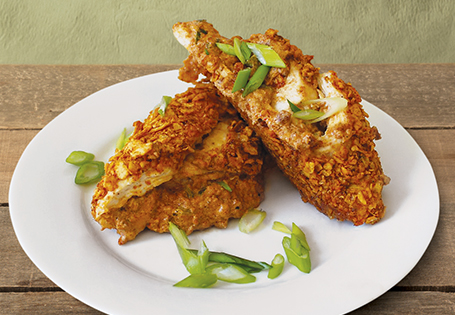 Fiesta-Stuffed Pollo
Tortilla-crusted chicken breast, stuffed with chorizo sausage, cream cheese and jalapeños.
Directions:
Preheat oven to 350°. Coat a baking sheet with cooking spray.
Butterfly chicken breasts and pound to ½-inch thickness. Season both sides with salt and pepper and set aside.
In a medium sauté pan, brown chorizo over medium heat. Cook for 5-7 minutes. Drain fat.
Add cream cheese and jalapeños to chorizo or cheddar cheese and mix thoroughly.
Spread mixture over chicken breasts. Roll and secure ends with toothpicks.
In a large bowl, combine crushed chips and taco mix, reserve.
Place flour in a shallow dish. Place beaten egg in another shallow dish.
Dip stuffed chicken breast in flour, then egg, then chips. Place on prepared baking sheet. Repeat with remaining breasts. Bake for 30 minutes or until golden brown. Serve with guacamole.
Recipe courtesy of Chef Alyssa,
ALDI Test Kitchen