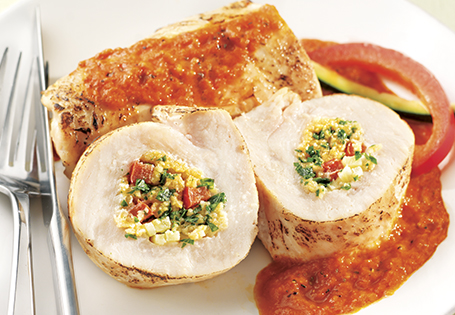 Stuffed Chicken with Red Pepper Coulis
Directions:
Preheat oven to 350º.
For the red pepper coulis: In a medium skillet, heat 2 tablespoons oil over medium-high heat. Add the quartered bell peppers and cook for 5-8 minutes until softened.
Add tomato paste and chicken broth, simmer until liquid is reduced by half. Add to blender and puree until smooth. Season with salt and pepper to taste.
For the stuffed chicken: In a medium bowl, combine the crushed cereal, garlic, parsley, basil, parmesan, eggs and 2 tablespoons olive oil.
Pound chicken to a ¼-inch thickness. Layer julienned bell peppers and zucchini strips on the chicken pieces. Spread crumb mixture on top, roll up to enclose the filling. Secure with toothpicks.
In an ovenproof skillet, heat the remaining 2 tablespoons oil over medium heat. Add the chicken and brown on both sides, about 6 minutes total. Transfer the skillet to the oven, cook until chicken is cooked through, 15-20 minutes. Serve with the coulis.
Recipe Courtesy of ALDI Test Kitchen