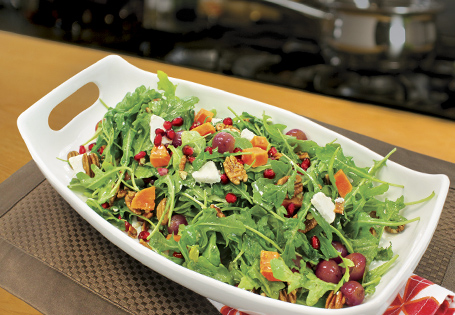 Roasted Grape & Sweet Potato Salad
Roasted fruit is a great fall treat! Tangy roasted grapes and tender sweet potato make this salad a fall sensation.
Directions:
Preheat oven to 425°.
In a medium bowl, combine grapes, sweet potato and 1 tablespoon olive oil, toss to coat. Spread onto baking sheet.
Coat onion and garlic with 1 tablespoon olive oil. Wrap together in aluminum foil. Roast potatoes, grapes and foil package on the same baking sheet 20-25 minutes or until grapes begin to burst. Remove from oven, allow to cool slightly.
In a blender, combine onion, garlic, vinegar, salt and pepper. Slowly stream in remaining oil. Blend until smooth.
In a large bowl, toss arugula, desired amount of vinaigrette, half of roasted grape mixture, 2 ounces goat cheese, half of pomegranate seeds and ¼ cup pecans. Garnish with remaining ingredients.
Recipe Courtesy of ALDI Test Kitchen