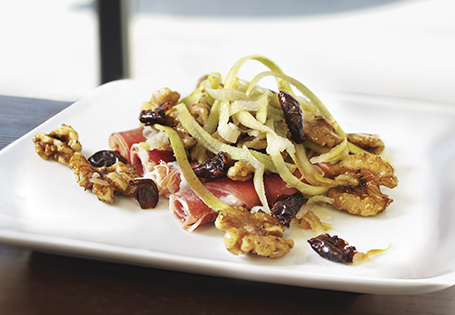 Pear "Noodles" with Prosciutto and Honey Walnuts
This sweet and salty recipe is perfect for a savory dessert or for jazzing up salad greens!
Directions:
Use your spiralizer to create thin pear "noodles." In a medium bowl, combine "noodles," lemon juice and ¼ teaspoon salt. Toss to coat; reserve.
In a small pot over medium heat, heat honey, remaining ¼ teaspoon salt, pepper and thyme. Stir until well combined. Add walnuts, stir until walnuts are completely coated. Transfer to a parchment-lined baking sheet; let cool.
In a large bowl, toss pear "noodles" and honey-coated walnuts. Garnish with sliced prosciutto and pomegranate seeds.
Recipe Courtesy of ALDI Test Kitchen