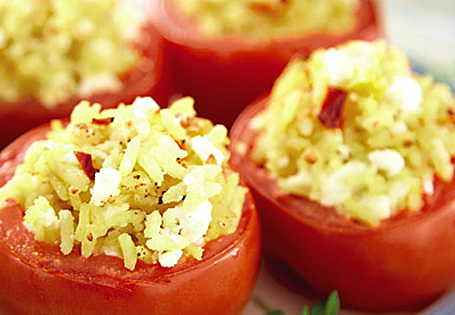 Greek Stuffed Tomatoes
A tasty vegetarian entrée or side dish.
Directions:
Preheat oven to 400°. Lightly grease a small baking dish and set aside.
Slice the top off of each tomato and scoop out the flesh and seeds, leaving the tomato shell.
Cook the rice in the microwave or on the stovetop according to the package directions.
To the rice, add feta cheese, 1 tablespoon olive oil, oregano, crushed red pepper and lemon zest. Mix together gently.
Stuff the tomatoes with the rice mixture and place in baking dish. Drizzle with remaining olive oil. Bake for 15 minutes, or until tomatoes have softened and tops are golden brown.
Recipe courtesy of Chef Kates,
ALDI Test Kitchen