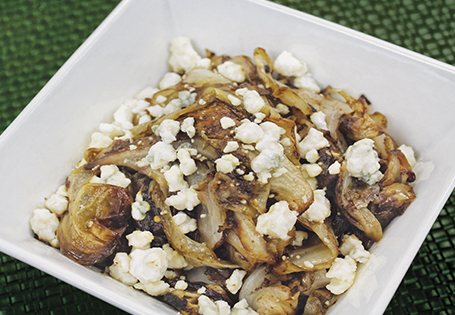 Butter Braised Cabbage
Deliciously decadent side dish for the holidays.
Directions:
Preheat oven to 350˚.
In a large ovenproof skillet, heat 1 tablespoon oil. Add onions, season with salt and pepper. Sprinkle with baking soda and cook until onions are caramelized. Remove from pan and reserve.
Add walnuts and honey to pan, stir walnuts until fully coated. Season with salt and pepper. Cook for 2-3 minutes or until walnuts turn slightly brown. Remove from pan and reserve with onions.
Pour remaining oil into the same skillet and allow to heat. Place cabbage pieces cut side down in skillet, leaving an open space in the center. Cook cabbage until cut side becomes browned, flip and cook the other side until browned.
Place both sticks of butter in the open space between the cabbage, let the butter fully melt and brown slightly. It should foam during this process. Using a large spoon, ladle the melted butter over the cabbage. Make sure the butter gets in between the leaves of the cabbage.
Top each wedge of cabbage with the caramelized onions and walnuts. Ladle butter over the top and place skillet in oven.
At 15-minute intervals, baste the cabbage with the pan drippings. Cook for 1-2 hours or until cabbage is soft and can be broken with a spoon.
During the last 15 minutes of cooking, remove from oven. Sprinkle with blue cheese crumbles, baste with pan drippings and return to oven. Remove from oven and transfer to a platter or serving dish.
Recipe Courtesy of Chef Scott, ALDI Test Kitchen